The White Box Edition of SagaBorn Battles is officially for sale.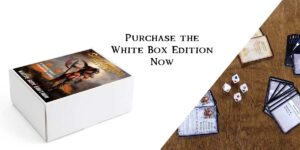 After years of playing with friends and at cons, the "1st Edition" or White Box is for sale. The box comes with all you need to start playing (except for miniatures).
Only 10 of these White Box Editions will be made (2 have already sold), so you if are a collector or enjoy getting the very first of a game, this is the Edition for you. Plus you can join the Relic Hunters by playing the game and recruiting others into the game!